Stripper Shoes 101
Stripper Shoes 101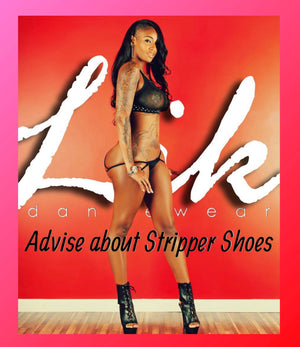 If you decided to start dancing, you have a lot of preparation to do. One of the most important tools in your stripper bag is a fierce pair of stripper shoes. Stripper shoes can be very expensive. If you're just starting out, the last thing you want to do is waste your hard earned cash. We have some recommendations on fit, heel height, and versatility.
Keep your mind on your money not your feet. You will be standing the entire shift, so you need a good fit. A lace up shoe is a good way to get support around your ankle and toes. Choose the right size. If it's too big, your feet will slide forward; if it's too small, toes will just hang over. Lindsay from our Capitol Heights store calls it a "shrimp cocktail" when your toes hang over the front of your shoe 😂. You need stability and that comes with good fit. You may be tempted to buy a single ankle strap shoe. That is great and sexy if you have been practicing and are not gonna turn your ankle. Some Gentlemen's clubs require you to wear gowns and these types of shoes and they are often the lowest price. 
Stripper heels can come in various heights. We carry 5, 6, 7, and 8 inch here at Lik. These shoes are all specifically designed for dancers. They have special grips, cushions and designs. At work you want to focus on your money and your clients and not thinking about your feet or fatigue. Choose a comfortable height. A platform will give you a sexy long leg look. Stilettos are safe and classy. An 8 inch heel is best left for the experts. 
Your first shoe should match multiple outfits. We almost always recommend black, silver or clear. You may be more comfortable in a closed toe but our best sellers are open toe. Don't waste that pedicure by hiding your toes. It can also be more comfortable to have open toe and a well manicured foot.  
We are here to help! If you still have questions the best way to reach us is on our IG / DM.
Good luck and be safe 💜
Here are some of our recommended shoes:
del1018lg-bpu-sg 6 inch glitter heel
del1016bm our best seller lace up front 6 inch heel
Chic40 classy comfortable black rhinestones straps
Asp600 clear and black lace up 7 inch heel